We have faced the worst public health emergency in a century. The world's bioethics community has joined colleagues in clinical practice, public health, hospital administration, biomedical research, faith communities, law and government in an extraordinary effort to respond to COVID-19. The Florida Bioethics Network is contributing to this response by developing and sharing various resources. They are provided here. Though some of these resources would customarily be placed in the "members only" section of the website, they are made freely available here as a service to the community. 
The guidelines and position statements express solely the views of FBN Advisory Board members as individuals. They are not necessarily supported or opposed by any of the members' institutions or employers. No such support or opposition is intended or should be inferred. 
---
FBN Position Statement on Vaccination
In August and September of 2021, Florida hospitals experienced yet another COVID surge. At one point, 24 Florida hospitals had more ICU patients than ICU beds. The crisis was caused by vaccine and mask hesitancy, if not outright opposition. The statement reads, in part, "Wearing masks and accepting vaccinations are scientifically sound strategies, and their use is guided by an ethical framework of shared values and ideals that promote the common good. Vaccine and mask mandates are ethically permissible, if not obligatory."
FBN Position Statement on Masks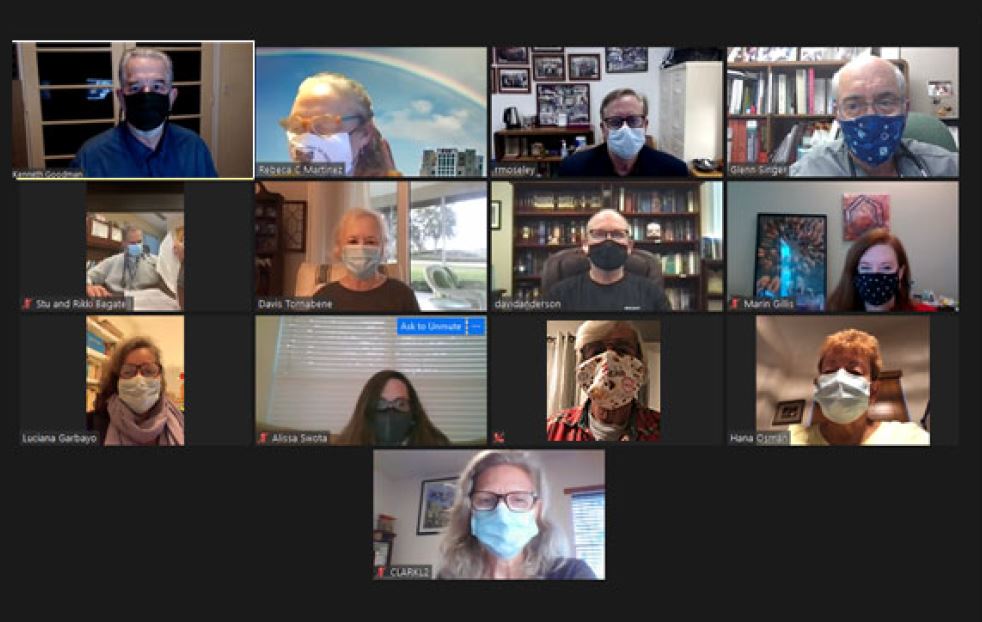 The statement, by Davis Tornabene of Sarasota and approved by the FBN Board of Advisors, endorses "the universal use of masks as an effective tool" to impede the Coronavirus. The statement reads, in part, "The Florida Bioethics Network salutes the majority of citizens who have already made a commitment to wearing masks, and hopes that this endorsement will encourage others to participate in an effort to mitigate a predicted surge of cases. Until vaccines become widely available and the population reaches a sufficient level of immunity, masks will serve as an important tool to promote the safety and welfare of those in the community while also honoring the shared values and obligations of citizenship."
Guidelines for Managing Shortages

"Managing Shortages of Therapeutics in Hospitals" is the second FBN effort to develop and share guidance documents to support health care institutions during the COVID-19 pandemic. It is a companion to the FBN's "Ethics Guidelines for Crisis Standards of Care in Public Health Emergencies" (see just below), which addresses ventilator allocation and related issues.
 Guidelines for Crisis Standards
The "Ethics Guidelines for Crisis Standards of Care in Public Health Emergencies" has been approved by the FBN Advisory Board and endorsed by the Florida Hospital Association Board of Trustees. It is subject to ongoing revision and fine-tuning. No FBN members are authorized to speak on behalf of any institution they might work or volunteer for, and any listing of members' institutions is for identification purposes only. This document does not provide, and should not be inferred to provide, legal advice of any kind. For legal questions, contact qualified legal counsel.

This document is the workproduct of dozens of people. It is provided as a service to the community. If your institution uses or quotes from these Guidelines, please email fbn@med.miami.edu. Any and all use of the document in whole or in part is made with the understanding and acceptance of the fact that no representation as to its suitability or fitness for any purpose whatsoever has been or is made or implied.
---
Webinars
The FBN and other institutions have launched a webinar series to inform and educate Florida's bioethics community about Coronavirus issues.

---
Educational Resources

---
Other Resources
In addition, the FBN, in conjunction with the University of Miami and Florida International University, maintains a list of links to a range of resources available from governments, healthcare institutions, and other organizations on issues ranging from privacy to informatics: Pandemic Ethics Resources.
---
From the Archives 
November 9, 2007 | FBN conference in Sarasota: Preparing for the Coming Pandemic
---